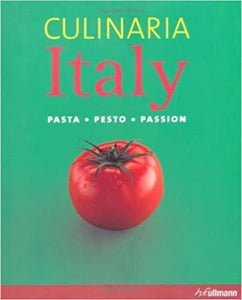 Condition:  Very Good+ - Copy has a minor corner bend.  Appears unread.  Very Good -Copy has an inscription on the front free-endpaper.  Appears unread. 
The Culinaria series reports on every aspect of the cuisine of a country within the context of the people who created it.  The teams behind each Culinaria volume spend months in the region they are working on, allowing them time to fully absorb all of the food and drink a country can offer. The Culinaria Italy volume is illustrated with spectacular photography and filled with authentic recipes that are visually beautiful and a treat for both the mind and the palate.
In 496 pages and more than 1,200 colour photographs, Culinaria Italy introduces not only the kitchen and cellar but also the history behind the dishesand their cultural significance.
Publishing Details
Paperback: 496 Pages
h. f. ullmann Special ed. (2008)
ISBN-13: 978-3833148897
Dimensions: 25.4 x 21.6 x 3.6 cm
Weight: 1.79 Kg
Overweight Shipping Surcharge $6.95