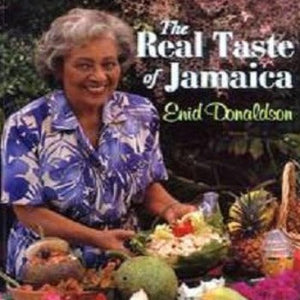 Condition:  Like New Rare Book - No markings. Appears Unread. 
Written by a practicing Jamaican cook of over 30 years, Enid Donaldson, The Real Taste of Jamaica provides recipes that are simple, time-saving, and allow for the substitution of ingredients. The book is divided into the following sections:
| | |
| --- | --- |
| Fish, Chicken and Meat | Vegetarian |
| Soups, Sauces and Dressings | Beverages |
| Traditional Baked Goods | Desserts  |
Each section opens with stories and anecdotes that remind you of the days when meat was cured by smoking, and sweet potato pudding was baked in an iron 'dutch' oven.  The Real Taste is abundantly illustrated with photographs, line drawings and watercolour images. 
"This is the very best cookbook I have ever owned. The recipes and ingredients are true to the finished products.  I was born in Jamaica and now live in Canada and I missed a lot of the foods that I had as a child. Now I will be able to make these again and will eventually pass the book on to our daughter."  Buyer review. 
QUALIFIES FOR FREE SHIPPING*
Publishing Details
Hardcover: 156 pages
Craftsman House; (1993) reprint 2000. 
ISBN-13: 978-9768100214
Weight: 768 g
Dimensions: 22.9 x 1.9 x 26.7 cm