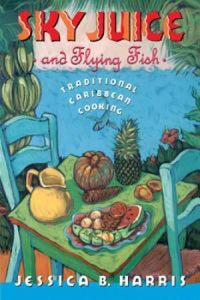 Condition:  Very Good - Back cover has a corner fold. 
Sky Juice and Flying Fish is a truly authentic guide to traditional Caribbean cooking, the kind you'd find at roadside stands.  
A culinary history of each of the Caribbean Islands provides the perfect introduction to the 150 recipes for appetizers and soups, entrees, side dishes, and desserts, all featuring distinctly exotic seasonings. 
Begin your meal with plantain chips and a rum-spiked 'ti-punch. Go on to Bajan Fried Chicken from Barbados, complemented by a banana-ginger chutney and served with Jamaican Rice and Peas. Finish up with sumptuous coconut pudding.
 Inspired by the Bold Flavours of the Tropics
Publishing Details
Paperback: 238 pages
Fireside Simon and Schuster (1991)
ISBN-10: 0-671-68165-6
Dimensions: 15.5 x 1.4 x 23.4 cm
Weight: 348 g