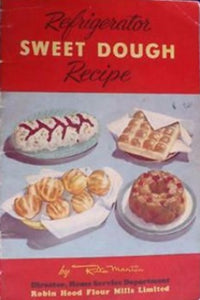 Condition: Good - Text is clean and unmarred with yellowing. Pages intact. The binding is tight. Minor edgewear. The cover has a minor corner fold and a light pencil squiggle. The back cover has some pencil scribbles and a child's printing on the top half.
Refrigerator Sweet Dough shows you how to make sweet dough that will keep fresh and sweet in the refrigerator for 7 full days  This booklet includes 12 variations with clear step by step instructions and photographs. A wonderful vintage collectable.
What's New in the Vintage Shop?
Publishing Details
Booklet: 23 pages
Robin Hood Flour Mills (Jan. 1, 1948)
ASIN: B002CEVI12
Dimensions: 13.0 x 4.0 x 23.0 cm
Shipping Weight: 56 g