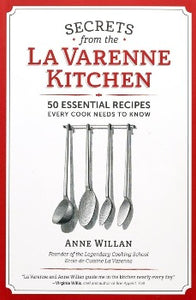 Condition: Used Like New
In 1975, Anne Willan, a culinary icon who, along with Julia Child, Jacque Pepin, James Beard, and others, launched the modern culinary industry, founded École de Cuisine La Varenne in Paris and educated some of today's most notable chefs.  Upon enrolling at La Varenne, all students received a helpful and easy reference tool: La Varenne Basic Recipes. The booklet was based on chef Albert Jorant's belief that "there are only fifty basic recipes in the culinary repertoire, and all other dishes can be made from them." This book includes:
• Stocks                    10 recipes including Veal, Chicken, Fish and Glazes
• Sauces                   17 recipes from Brown to Béchamel to Hollandaise 
• Pastry and Cakes     8 recipes including Sweet, Choux & Puff Pastry 
• Creams and Icings   7 recipes including Butter Cream Frosting
• Meringues               3 recipes
• Desserts                  6 recipes including Ice Cream.
The 50 essential recipes from the La Varenne curriculum are available to chefs, culinary students, and passionate home cooks. It is important to note that this is not a book of finished dishes. Rather it is a collection of the sauces, pastries and creams that go to make up a dish.  Above all, Secrets from the La Varenne Kitchen is a working tool, to fashion professional excellence. It is a practical book for practical cooks – both professional and home enthusiasts.
Discover the Flavours of Northern Europe
Publishing Details
Paperback: 136 pages
Publisher: Spring House Press (March 15, 2015)
ISBN-10: 1940611156
ISBN-13: 978-1940611150
Product Dimensions: 15 x 1 x 22.4 cm
Shipping Weight: 344 g