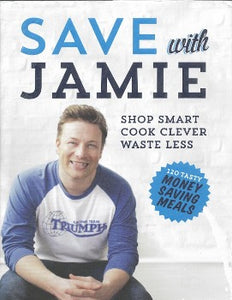 Condition: Like New text  Appears unread.  Dust jacket has rubbing on the spine, cover and minor edgewear.
Save with Jamie focuses on feeding your family healthily and economically. With his trademark tone, style and design, Jamie shows us the most delicious ways to stretch your family food budget further while still enjoying lots of flavour and good, healthy food.
Jamie draws on knowledge and cooking skills to help you make better choices showing you how to get the most out of your ingredients save time and prevent food waste.
Publishing details
HarperCollins Publishers (Oct. 8 2013)
Hardcover: 288 pages
ISBN-13: 978-1443429238
Weight: 1.07 kg
Dimensions: 19.96 x 2.87 x 25.02 cm