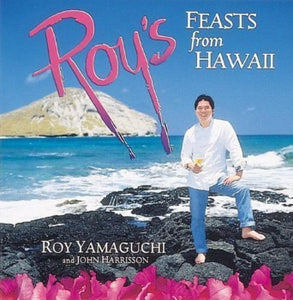 Condition: Very Good
Roy's Feasts from Hawaii is a feast for the eyes as well as the palate, this is the ultimate presentation of the exquisite flavours of Hawaii and the Pacific Rim. Boldly reinventing Hawaiian cuisine, award-winning chef Roy Yamaguchi emphasizes seafood and fresh ingredients while borrowing techniques and flavours from European and Asian cooking.  More than 150 innovative recipes from Roy Yamaguchi's world-famous Hawaiian fusion restaurants. Includes more than 100 full-colour photos of Roy's vibrant dishes and Hawaii's natural beauty.
After growing up in Japan, Roy Yamaguchi moved to New York to train at the Culinary Institute of America. In 1988, he opened the first Roy's, in Honolulu. In 1993, he was named Best Chef in the Pacific Northwest by the James Beard Foundation. 
Publishing Details
Hardcover: 240 pages
Ten Speed Press (Nov. 1, 1995)
ISBN-13: 978-0898156379
Dimensions: 23.6 x 1.8 x 23.6 cm
Weight: 1.38 Kg