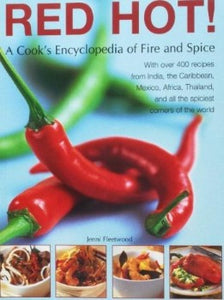 Condition: Very Good -Pages are clean and not marred by notes or writing. Appears unread. The cover has minor cosmetic creases at the bottom edges. 

A fantastic collection of inspirational spicy dishes, from hot and fiery to subtle and aromatic, from all corners of the globe. Red Hot! contains more than 340 recipes for all seasons and occasions from scorching salsa and dips to spicy soups.
Over 1,500 photographs illustrate the clear step-by-step methods and finished results.  Carbohydrate, fat, salt and calorie counts are given for every recipe to help you keep a healthy lifestyle. 
Publishing Details
Paperback: 512 pages
Hermes House (Dec. 7, 2010)
ISBN-13: 978-1844776306
Dimensions: 17.9 x 3.1 x 22.4 cm
Shipping Weight: 1.29 kg