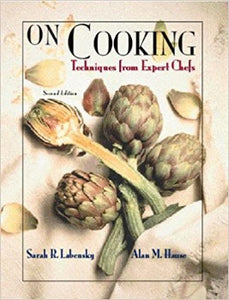 Condition: Like New - Appear unread. Minor wear at top of the spine. 
On Cooking: Techniques from Expert Chefs brings together all the fundamentals of good cooking -- clearly explained by top chefs and food writers, with plenty of detailed techniques. This book's 750+ recipes cover everything from soups to meats and salads to desserts and reflect a wide range of cooking styles.
More than 1400 colour photographs identify ingredients and tools, demonstrate techniques, and plate and buffet presentation.  Focussed on healthy cooking techniques, with nutrition advice and a nutritional analysis accompanying every recipe.  Short essays and notes on food history, food science and food preparation techniques (many contributed by prominent chefs and food writers) make On Cooking an extraordinary cookbook.
Publishing Details
Hardcover: 1125 pages
Pearson Education; (June 8, 1998)
ISBN-13: 978-0139241017
Weight: 2.76 kg
Dimensions: 22.2 x 5.1 x 28.6 cm
Oversized title shipping surcharge $10.95