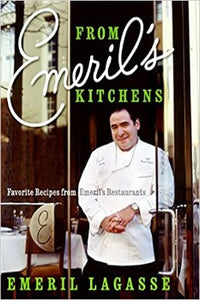 Condition: Like New- Appears as unread- Dust Jacket has minimal rubbing.
With the
From Emeril's Kitchens
cookbook, you can make your favourite Emeril dishes at home. Emeril Lagasse has gathered 150 of the most popular, most requested recipes from six of his restaurants, and has included two dozen new recipes as well. Be inspired by selections from:
Emeril's New Orleans ~
Home-Smoked Salmon Cheesecake

.
NOLA~Chicory Coffee Crème Brule's & Brown Sugar Shortbread.          
Emeril's Delmonico~
Souffléd Spinach and Brie Crêpes

.
Emeril's Orlando~Poached Grouper with Mango Salsa, Smashed Avocado.  Delmonico Steakhouse~Seared Beef Tournedos & Herb-Roasted Potatoes 
Emeril's New Orleans Fish House~Poached Oysters in Herb Cream
 From Emeril's Kitchens!  Kick up your love of food a notch.
Publishing Details
Hardcover: 352 pages
William Morrow Cookbooks; 1st edition (Oct. 14 2003)
ISBN-13: 978-0060185350
Dimensions: 17.8 x 3 x 23.2 cm
Weight: 774 g
Free Shipping