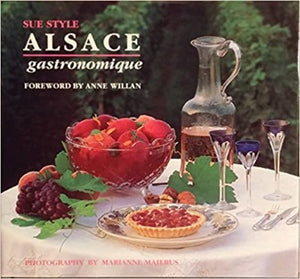 Condition: Very Good  Copy has the previous owner's name neatly concealed under dust jacket flap. 
Alsace, bordering on Germany to the north and east, and Switzerland to the south, has a rich and varied history and geography that are reflected in its cuisine. From the elegant city of Strasbourg, with its patisseries and chocolate shops, the reader is transported to the wine-growing Haut-Rhin, the scenery and forests of the Vosges mountains, and the pastures of the Rhine. Along the way, Styles introduces some of the specialties of Alsace, as well as many of the superb wines for which the region is famous.
Alsace Gastronomique takes us on a journey through vineyards, tiny villages, and bustling market towns, and offers us a selection of delicious regional recipes.  A superb selection of colour photographs captures the beautiful landscapes, unique produce, and outstanding cuisine of the Alsace. 
Publishing Details
Hardcover: 144 pages
Conran Octopus Ltd (Oct. 24, 1996)
ISBN-13: 978-1850297642
Dimensions: 22.5 x 1.4 x 24.5
Weight: 746 g