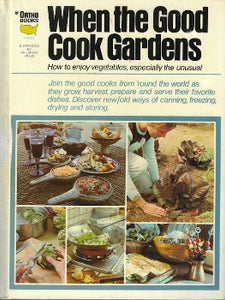 Condition: Very Good -Rare Hardcover - The text is crisp clean and appears unread.  The cover boards have minor cosmetic wear.
When the Good Cook Gardens
 is cookbook dedicated to the art of preparing vegetables, and a guide to growing your own garden greens. Chapters include:
1. About Vegetables
2. Oriental Vegetables
3. The Wok
4. The Art of Vegetable Cutting
5. All About Herbs
6. "Harvest" Your Garden Every Day of the Year; and
7. Vegetable Chart.
Excellent highly relevant and informative reference.

Publishing details
Hardcover: 96 pages
Ortho Books; 1974
Weight:  647 g
Dimensions: 21.8 x 1.0 x 28.6 cm