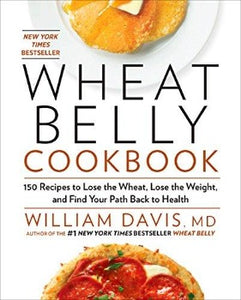 Condition: Very Good+   Has previous owner's name neatly inscribed on free front endpaper. 
Author and renowned cardiologist William Davis revealed that an epidemic of adverse health effects-ranging from minor rashes and high blood sugar to the buildup of stubborn belly fat (so-called "wheat bellies")-could be banished forever with one simple step: Saying goodbye to wheat.
The Wheat Belly Cookbook takes readers to the next level with over 150 fresh and delicious wheat-less recipes. The bestselling blockbuster Wheat Belly helped spawn a revolution: a revolution in thinking about wheat and the misinformation of "healthy whole grains," a new direction in understanding appetite and weight control, and a revolution in improving or reversing a long list of common health conditions, including diabetes, celiac disease, osteoporosis and arthritis.
Publishing Details
Paperback: 336 pages
Collins (Dec 18, 2012)
ISBN-13: 978-1443416337
Dimensions: 19 x 2.1 x 23.2 cm
Weight: 636 g