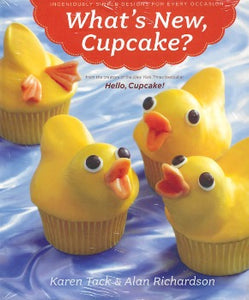 Condition: Like New - has a small remainder mark on bottom fore-edge.
So What is New, Cupcake? Karen Tack and Alan Richardson, the imaginative duo who turned cupcaking into a national pastime are back, with new creations anyone can make.

Make a cupcake race car, a cupcake robot, or ring bling cupcakes for a birthday party.  All you need are candies from the corner store, cake mix, and canned frosting. Lots of EZ projects that use just a few ingredients - perfect for kids and parties.  
Publishing Details
Paperback: 240 pages
Rux Martin/Houghton Mifflin Harcourt (April 1, 2010)
ISBN-13: 978-0547241814
Dimensions: 22.9 x 1.6 x 25.4 cm
Weight: 930 g