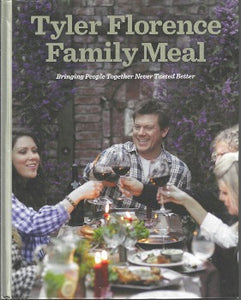 Condition: Like New Best Seller
Food Network star Tyler Florence is famous for championing simplicity.  His recipes exemplify the message: Local foods, cooked in season and prepared simply but with care and thought, are the best meals you can eat anywhere.

In Tyler Florence Family Meals, Tyler recounts the journey that brought him from the home cooking he grew up loving to the pleasures of the world's great cuisine. He speaks to the home cook with his signature casual charm about how they can improve their cooking and eating habits to bring about real changes in their health and in their attitude toward food.

Publishing details
Rodale Books (Oct. 12, 2010)
Hardcover: 320 pages
ISBN-13: ‎978-1605293387
Weight: ‎1 Kg
Dimension: ‎ 20.3 x 2.7 x 25.4 cm