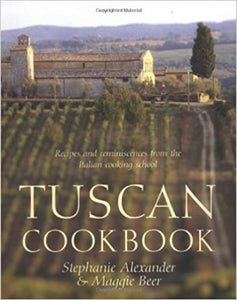 Condition: Like New
When Australian chefs Stephanie Alexander and Maggie Beer arrived in Tuscany to run a cooking school, they had no idea that the Tuscan Cookbook would follow.  Meals revolved around basic ingredients: bread, tomatoes, olive oil, and wine.  Students and teachers alike learned to produce meals based on what the market had that morning. One day it might be Grilled Squab with a Gratin of Squash or perhaps Herbed Pasta with Fresh Tomato and Red Onion Sauce. Another day is might be Rotolo di Spinaci preceded by an antipasto with mozzarella-stuffed zucchini flowers and marinated mussels.
Join their cooking classes in a villa amid the vineyards, and find out how to live where food is the key to daily life.  Find out why a simple meal of tomatoes, oil, bread and wine surpasses practically any other dining experience.
With its beautiful photography and heartfelt descriptions of the people, art and landscapes, the Tuscan Cookbook deserves a place on the shelf of every cook, traveller and lover of the good life.
Publishing Details
Paperback: 224 Pages
Readerlink: (2003)
ISBN-13: 978-1592231225
Dimensions: 27.69 x 22.35 x 1.78 cm  
Weight: 960 g