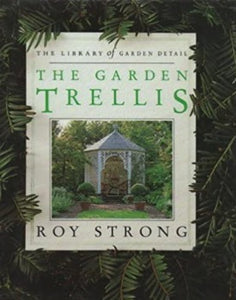 Condition: Very Good +
Photographs in The Garden Trellis show examples of many varieties of trellis and provide inspiration for design ideas as well as invaluable references.
The author, Sir Roy Strong is a well-known historian and garden writer, lecturer, columnist, and critic.  He is also an enthusiastic gardener who has designed gardens for Elton John and Gianni Versace and contributed designs to the Prince of Wales's garden at Highgrove.  
Publishing Details
Hardcover: 64 pages 
Series: Library of Garden Details
Pavilion Books; 1st ed. (September 9, 1991)
ISBN-13: 978-1851457953
Dimensions: 13.0 x 1.0 x 16.3 cm
Weight: 174 g