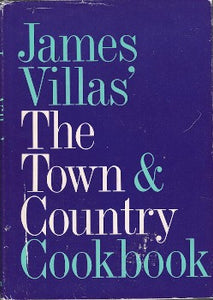 Condition: Very Good + -Text appears as unread.  Crisp and clean. Dust Jacket has rubbing, shelf and edge wear. 
James Villas' Town and Country Cookbook contains not only all of the recipes that have appeared in Town & Country up to 1985 but also many others the author has either developed or collected from numerous sources. Nearly 600 recipes, regional as well as international, are included.
As food and wine editor of Town & Country, Villa has assembled recipes ranging from peanut butter sandwiches to quail stuffed with spicy oysters, from baked beans to fiddlehead ferns with mushrooms.  The peanut butter sandwich is finished with overlapping slices of peeled kiwi fruit, and the baked beans contain clove-studded onion, dry mustard and dark rum.  The recipes throughout are simple enough for the novice.
Publishing details
Hardcover: 569 p
Little, Brown; First Edition (Jan. 1, 1985)
ISBN-13 : 978-0316903011
Weight: 1.06 kg
Dimensions: 17.5 x 4.4 x 24.2 cm
Oversized title shipping surcharge $6.95