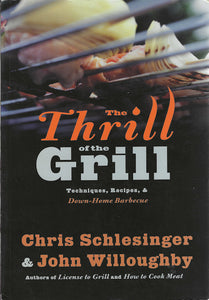 Condition: Very Good 
Chris Schlesinger and John Willoughby bring a unique blend of exotic spices, American favorites, humor, and infectious enthusiasm that will put the thrill in your grill and have you coming back for seconds.  This book features:
Sound advice on which grills and fuels to use, how to lay your fire, and how to know just when the fire is at the right temperature.
Descriptions of the few cooking tools you need for carefree grilling, with instructions on how to use them.
A chapter with grilling tips on how to get the best, most flavorful results.
A chapter of innovative, full-flavored grill appetizers,
A section on the art of barbecuing (smoke cooking), 
Recipes for beverages that are just the thing to wash down a spicy meal.
Simple down-home desserts, perfect after grilled foods.
Publishing details
Cookbooks; 1st edition (April 20 1990)
Hardcover: ‎400 pages
ISBN-13: ‎ 978-0688088323
Weight: ‎1.04 kg
Dimensions : ‎19.1 x 3.8 x 27.3 cm