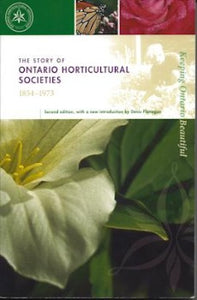 Condition: Used Like New
The Ontario Horticultural Association has been keeping Ontario beautiful through volunteer community plantings,  environmental projects, and public education for over a century.  The Association celebrates 100 years of keeping Ontario beautiful through this reprint of The Story of Ontario's Horticultural Societies 1854 -1973. 
The Ontario Horticultural Association was formed to promote and support community horticultural societies throughout the province whose efforts to create "a more beautiful and happier world" go back to the days of the early settlement in Upper Canada. 
Publishing Details
Paperback: 270 pages
Publisher: Ontario Horticultural Association; 2nd Edition (Jan. 1, 2006)
ISBN-10: 0978206304
Dimensions: 15.9 x 1.8 x 23.4 cm
Shipping Weight: 688 g