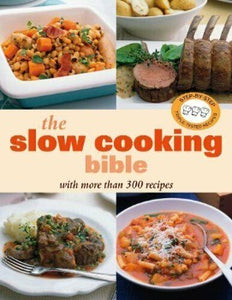 Condition:  Used Like New  Minor rubbing on the acrylic protective cover.
The Slow Cooking Bible explains the basic slowing cooking techniques and ways to get the best results. It features dozens of slow-cooked recipes from around the world; and soups and casseroles for meat lovers and vegetarians. 
Making a meal all in one pot is one of the easiest ways to cook and surely one of the most rewarding. Meat, seafood, or vegetables benefit from the process of a long, slow cook, accompanied by aromatic spices or herbs, and a good splash of stock.  Slow-cooked dishes abound in cuisines all around the world, and this collection of flavoursome recipes showcases the best of them.   
Publishing Details
Publisher: Murdoch (Sept. 1, 2011)
Paperback: 400 pages
ISBN-10: 1742665446
ISBN-13: 978-1742665443
Dimensions : 29.7 x 2.9 x 23 cm
Shipping Weight: 1.31 kg