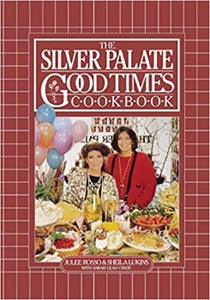 Condition: Like New Best Seller  Pages are clean and not marred by notes or writing.  The cover is crisp with minimal edgewear. Appears as unread.
 In The Silver Palate Good Times Cookbook, Julee Rosso and Sheila Lukins make the entire year a celebration of good food, good friends, and good times, as they offer menus, suggestions, and strategies. More than 450 new recipes have been developed especially for this collection. All add to the joyfulness of the Silver Palate legend: there are glorious soups, savoury entrees, vegetables, salads, cheese, souffles, and the perfect desserts.  The section Winter Wonderland provides 13 menus for Holiday season events from events leading up to Christmas Day, New Year's and winter escapes. 
The pages of The Silver Palate Good Times Cookbook abound with line illustrations, pertinent quotations, and unusual ideas. The good times are here, with the compliments of The Silver Palate.
Publishing Details
Paperback: 416 pages
Workman Publishing Co.; 1st ed. (Jan. 4, 1985)
ISBN-13: 978-0894808319
Dimensions: 17.8 x 2.4 x 25.4 cm
Weight: 924 g