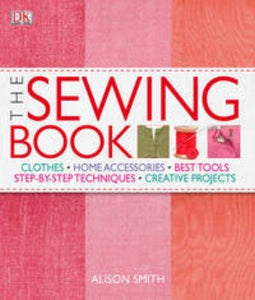 Condition: Like New/Very Good  Text Appear unread.  Dust Jacket has minor corner wear and interior flaps have aged. 
Fully illustrated and easy to use, The Sewing Book covers all the essential skills and techniques for successful hand and machine sewing.  With clear comprehensive step-by-step instructions and a glossary of sewing terminology, this book will help you advance from a sewing learner to a seasoned stitcher in no time.

All the techniques and projects are graded by difficulty level, from the simple and straightforward to the more complex and challenging ones.  Explore in-depth descriptions of 250 techniques, and browse a visual directory of more than 50 fabrics.

From basic sewing kits and cutting tools to measuring tools and marking aids, this book will show you the best equipment for the job and teaches you exactly how to use it. 
Publishing details
DK; 1st edition (2009)
Hardcover: ‎400 pages
ISBN-13: 9780756642808
Weight: ‎1.93 kg
Dimensions: ‎23.7 x 3.1 x 28.3 cm