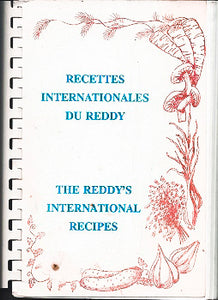 Condition: Good - Clean text -no markings of any kind. The binding is tight - Front cover has a minor fold and staining.
The Reddy's International Recipes bilingual cookbook is full of family favourites. This is a book of donated recipes to fund to provide recreational activities for long term care for elderly patients. A rare collectable community cookbook. 
What's New in the Vintage Store?
Eldercare Foundation of Ottawa
Publishing Details
Spiral-Bound Paperback: 371 pages
Published by: Reddy Memorial Hospital Centre. Westmount, QC (Circa 1970)
Dimensions: 15 x 2.4 x 21 cm
Shipping Weight: 462 g