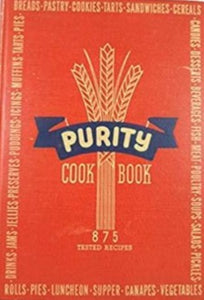 Condition: Very Good - has a notion on the free front endpaper otherwise excellent
Purity Cook Book was first published in 1923 and revised in 1932, 1937 and again in 1945. 

First founded in 1905, Purity Flour (named after the "pure white" flour they produced) rose to become the largest flour milling company in Canada. In 1932, they published the Purity Cook Book which featured a variety of recipes incorporating Purity products as well as hundreds of other complementary recipes for all meals of the day. In 1937, the cookbook was revised to include more modern cooking techniques. Again in 1945, the cookbook was revised, this time including simple, economic fare appropriate for war-time cooking.
This copy is the 1945 war-time edition.  Beautifully presented, this cookbook contains 875 recipes for a variety of meals including sandwiches, cereals, candies, desserts, beverages, fish, meat, poultry, soup, salads, pickles, vegetables, canapes, rolls,  and pies .Along the way, helpful tips and suggestions are included as well as detailed illustrations and colour photographs.
Publishing Details
Hardcover 208 pages
Purity Flour Mills; 3rd Edition (1945)
ASIN: B007XWXG1I
Dimensions: 23.6 x 16.6 x 2 cm
Weight: 424 g