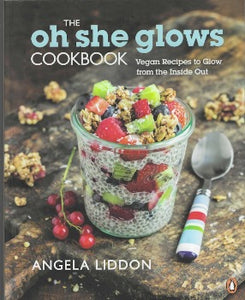 Condition: Like New Best Seller
Go vegan with Oh She Glows, the bestselling classic vegan cookbook packed with 100 revamped classics that even meat-eaters will love, to fresh and inventive dishes –all packed with flavour. From rich and hearty entrées like Tex Mex Casserole and 15-Minute Creamy Avocado Pasta to decadent desserts like the Chilled Chocolate Espresso Torte with Hazelnut Crust and Angela's Glo Bars.  
This cookbook includes many allergy-friendly recipes–with over 90 gluten-free recipes–and many recipes free of soy, nuts, sugar, and grains. Whether you are a vegan, "vegan-curious", or simply want to eat delicious and healthy, this book is for you.

Publishing details
Penguin Canada (March 4, 2014)
Paperback: 336 pages
ISBN-13: ‎978-0143187226
Weight: ‎1.1 kg
Dimensions: ‎20.6 x 2.5 x 25.4 cm