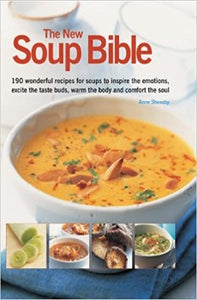 Condition: Very Good  

The copy appears to be unread.  Pages are intact and are not marred by notes, highlights, food, or water stains.  The spine is undamaged, and the binding is tight.  The dust jacket, book edges and corners have some minor shelf wear.

The New Soup Bible: 200 classic recipes from around the world is a tempting collection of delicious soups, broths, chowders, bisques, consommés and gumbos, illustrated with over 730 step-by-step photographs. Features dishes from all over the world, including Hungarian Cherry Soup, Moroccan Hariri, Louisiana Seafood Gumbo and Thai Fish Broth.
Publishing Details
Paperback: 256 pages
Southwater; (Nov. 16, 2012)
ISBN-13:  978-1780192239
Dimensions: 27.1 x 2.0 x 24 cm
Weight: 1.4 Kg