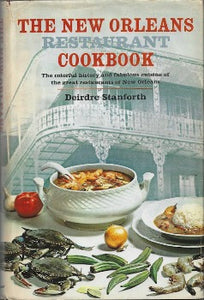 Condition: Very Good  Text is in like new condition.  Dust jacket has edge-wear and yellowing.
If you like New Orleans and enjoy the food that's integral to laissez les bons temps rouler, this book is a gem. The New Orleans Restaurant Cookbook presents a colourful history and fabulous cuisine of the great restaurants of New Orleans. This vintage cookbook includes recipes from the following restaurants: Antoines, Arnauds, Brennan's Galatoire's, Commander Palace, Lagniappe, the Pontchartrain Hotel's Caribbean Room, Corinne Dunbar's, and Masson's Beach House. 
This cookbook contains 229 pages of recipes from 9 of New Orleans' most famous restaurants. Each restaurant receives a brief history and a selection of recipes associated with them. Some of its most recognized regional cuisine like Gumbo, Oysters Rockefeller, and Shrimp Creole are among the recipes included.  
Publishing details
Doubleday; 1st Edition (January 1, 1967)
Hardcover: ‎240 pages
ISBN-13: ‎ 978-0385061223
Weight: ‎543 g
Dimensions: 17.3 x 1.24 x 24.1 cm