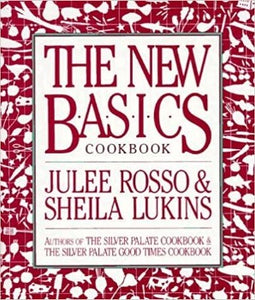 Condition: Like New
Beginning cooks will learn how to boil an egg.  Experienced cooks will discover new ingredients and inspired approaches to familiar ones. Encyclopedic in scope, rich with recipes and techniques, and just plain fascinating to read, The New Basics Cookbook is the indispensable kitchen reference for all home cooks.
A whimsically illustrated 875-recipe labour of love, The New Basics features a light, fresh, vibrantly flavoured style of American cooking that incorporates the best of new ingredients and cuisines from around the world.
Over 30 chapters include recipes for Pasta, Pizza, Risotto, Soups, Salads, Vegetables, Chicken, Paella Grains, Beef, Lamb, Pork, Game, and Cheese. Not to mention 150 Desserts! Plus, tips, lore, menu ideas, at-a-glance charts, trade secrets, The Wine Dictionary, a Glossary of Cooking Terms, and much more.
Publishing Details
Paperback: 849 pages
Workman Publishing Company;  (Jan. 10 1989)
ISBN-13: 978-0894803413
Dimensions: 20.32 x 4.45 x 23.19 cm
Weight: 1.62 kg