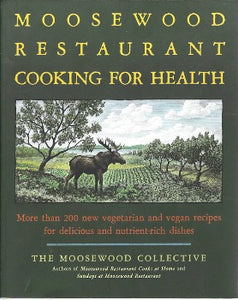 Condition:  Very Good  Text is clean and appears unread.  Front cover has a diagonal crease.
"It's a great time to eat well. Farmers' markets filled with local and organic vegetables are sprouting up everywhere, and supermarkets are spilling over with whole grain choices, bigger and better produce sections, and a variety of healthier convenience foods. Cooking for both health and pleasure has made creating this, our twelfth cookbook, a wonderful experience. What always remains fresh and constant is the joy we find in cooking and delight in eating."
~From the Introduction
Moosewood: Vegetarian Fare at its Very Best!
Publishing Details
Simon & Schuster; (Nov. 3 2009)
Paperback: ‎ 368 pages
ISBN-13: ‎978-1416548874
Weight: ‎637 g
Dimensions: ‎18.7 x 2.8 x 23.1 cm