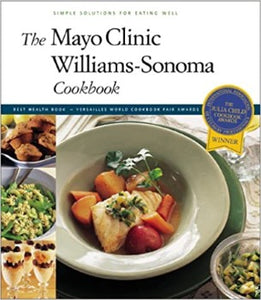 Condition: Like New
The Mayo Clinic is one of the world's most respected medical foundations and Williams-Sonoma teamed up to create this elegant cookbook. Each of the 140 recipes is accompanied by a detailed nutritional analysis and color photograph.   
This book offers six sections:  1. Nutrition: planning and approaches, 2. Starters: Appetizers, Salads and Soups, 3. Compliments: Vegetables, Grains, Potatoes, and Pasta's, 4. Entree's: Vegetarian, Poultry, Seafood, and Meat, 5. Finishes: Breads, Drinks, and Desserts. 
Simple Solutions for Eating Well is a two-time winner of "Best Health Book" by the IACP Julia Child Cookbook Awards and the Versailles World Cookbook Fair Awards.
Publishing details
Time Life: (2001)
Paperback: 272 pages
ISBN-13: 978-0737020687
Item weight: 1.19 kg
Dimensions: 1.91 x 22.23 x 25.4 cm