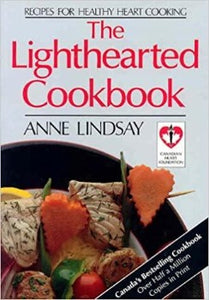 Condition: Good -Has some water stains on the lower-left corner pages and along the fore-edge. Does not compromise readability. The spine is tight. 
The Lighthearted Cookbook has been an invaluable daily guide to putting your healthy living plan into action. This book, published in co-operation with the Canadian Heart Foundation, contains 200 healthy recipes from a Seafood Lettuce Roll appetizer to Strawberry Mousse.
These quick and easy recipes, are based on the Canadian Heart Foundation's dietary recommendations and are accompanied by a nutritional analysis listing the amount of fat, calories, cholesterol, carbohydrates and sodium. A practical Lifestyle section offers helpful tips on feeding a family on the run, teaching children healthy eating habits, eating out, and cooking for one. In addition, Canadian Diabetic Food Choice Values are given for all recipes. In short, The Lighthearted Cookbook contains everything you need to put your healthy heart plan into action.
Proceeds will be donated Canadian Heart Foundation
Publishing Details
Key Porter Books; 1st edition (1988)
Paperback: 245 pages
ISBN-13: 978-1550130683 
Weight: 480 g
Dimensions: 17.8 x 1.5 x 25.6 cm