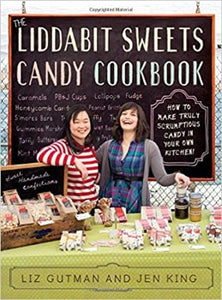 Conditions: Like New
You really can make sublime treats at home thanks to Liz Gutman and Jen King, the classically trained pastry chefs who traded in their toques to make candy—and now lead the candy-craft movement as proprietors of Liddabit Sweets, the Brooklyn confectionery. 
The Liddabit Sweets Candy Cookbook is the perfect marriage of sugar and spice, packed with 75 foolproof recipes, colour photographs, and lots of attitudes. The approachable recipes, offbeat humour, and step-by-step photographs remind us that home candy making is meant to be fun. The flavour combinations, down-to-earth advice, and easy directions make this the guide to turn to whether making candy for a treat, a holiday, a gift, or a bake sale.

Publishing Details
Paperback: 320 pages
Workman Publishing (Oct. 9, 2012)
ISBN-13: 978-0761166450
Dimensions: 18.1 x 1.9 x 24.0 cm
Weight: 748 g