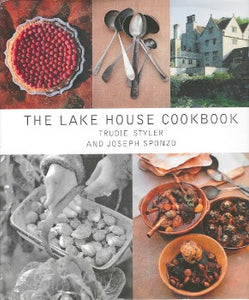 Condition:  Like New -text is clean crisp and unmarred.  Dust Jacket- very good with minimal shelf wear. 
Nestled in the English countryside, Lake House is a beautiful English manor house and a working organic farm home to Sting, Trudie Styler, and their family. 
The Lake House Cookbook, written with family chef Joseph Sponzo, offers a mouthwatering array of dishes based on the farm's yield.  Arranged seasonally, the more than 150 recipes include soups and starters, salads and vegetable dishes, main courses, desserts, baked goods, drinks and preserves for every occasion.   With more than sixty acres of fruits and vegetables, livestock, and honey- and cheese-making facilities,  this book celebrates a year in the life of good food and good living.

Publishing details ‏
Clarkson Potter; 1st edition (Sept. 21, 1999)
Hardcover: ‎224 pages
ISBN-13: ‎978-0609604120
Weight: ‎1.1 kg
Dimensions: ‎ 22.9 x 1.9 x 26.0 cm