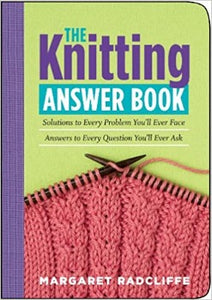 Condition: Like New - Unread.  Minor cover rubbing.
In The Knitting Answer Book experts Margaret Radcliffe and Edie Eckman leave no question unanswered, no quandry unaddressed. This guidebook contains detailed, illustrated answers to literally hundreds of questions, from the common to the more unusual:
• Are certain needles better for certain yarns?
• What if I dropped a stitch several rows back?
• Why do my edges tend to curl up?
• Can you use a different weight yarn than the pattern calls for?
• What can I do to keep my yarns from tangling up?
The Knitting Answer Book will help knitters and crocheters of all levels. Each book is a take-along size, in an easy-to-use Q&A format.  

Publishing Details
Paperback: 432 pages
Storey Publishing;  (Oct. 1, 2005)
ISBN-13: 978-1580175999
Dimensions: 11.8 x 2.5 x 16.2 cm
Weight: 386 g