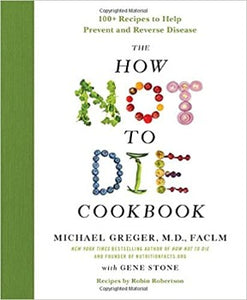 Best Seller How Not To Die gives effective, scientifically-proven nutritional advice to prevent our biggest killers - heart disease, breast cancer, prostate cancer, high blood pressure, diabetes - and reveals the health benefits that simple dietary choices can provide.
How Not To Die examines each of the most common diseases, chapter by chapter, to explain what, how and why different foods affect us and how increasing our consumption of certain foods and avoiding others can dramatically reduce our risk of illness and even reverse the effects of diseases.
With an emphasis on individual family health history and acknowledging that everyone needs something different, Dr. Michael Greger offers practical dietary advice, and more than 100 recipes to help you make decisions about your diet in order to live longer, healthier lives.
Publishing Details
Hardcover: 272 pages
Flatiron Books; 1st edition (Dec 5, 2017)
ISBN-13: 978-1250127761
Dimensions: 19.9 x 2.5 x 24.3 cm
Weight: 1.04 kg