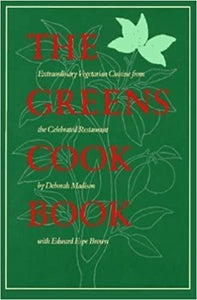 Condition: Very Good - Text is clean and free of stains or moisture damage.  Dust Jacket has some edgewear at the spine. 
The Greens Cookbook,  using an extraordinary range of fresh ingredients in imaginative and delicious ways, it shows how to present a feast for the eyes as well as for the palate.
The Greens Cookbook contains more than 260 recipes for all seasons, all occasions, all tastes. From bright, simple salads to beautifully spiralled roulades, here is a provocative, sophisticated and varied fare, dedicated to elegance and balance, taste and texture, colour and freshness. Inside you will find:
Inspiring menus for spring, summer, winter, fall.
Everything from easy-to-prepare dishes for two to meals for a gala feast.
A guide to selecting wines with vegetable dishes.
Glossaries of unfamiliar ingredients and useful kitchen equipment.
Insightful professional tips heading each recipe.
For Your Wellness -Explore our Vegetarian Titles
Publishing Details
Hardcover: 416 pages
Bantam Books; Reissue edition (April 1, 1987)
ISBN-13: 978-0553051957
Dimensions: 26.1 x 3.3 x 17.9
Weight: 928 g