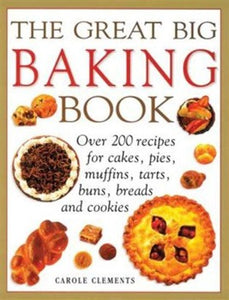 Condition: Very Good  - minor edge wear.  Best Seller
The Great Big Baking Book is brimming with traditional baking secrets as well as modern innovations for successful baking. This collection of 200 recipes guide readers through all varieties of home-baking techniques. Each recipe is illustrated with colour photographs.
Recipes in this book include those for Nut Lace Cookies, Sticky Buns, Lady Baltimore Cake, Chocolate Macaroons, Sourdough French Bread, Granola Cookies, Mushroom Quiche, and Key Lime Pie. A special section of unique party cakes also makes special cake creation and decoration accessible to everyone.
The Great Big Baking Book is the perfect companion to anyone's discovery of the joys of baking. 
Publishing Details
Paperback: 256 pages 
Southwater (June 7, 2016)
ISBN-13: 978-1780194745
Dimensions : 16.97 x 1.55 x 22.05 cm
Item Weight : 1341 g