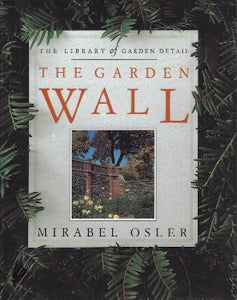 Condition: Very Good - Clean and Crisp.  Dust Jacket has minor shelf-wear. 
The Garden Wall is a unique approach to detailed garden design through an attractive combination of close-up photographs and informative text. Published as a set of pocket-sized books, this series is specially designed to lead the eye straight to the heart of the garden, focusing on those individual details so important to the overall design of your garden. The garden wall, whether built to provide shelter or simply to guide the eye, gives the backbone to the structure of a garden.
This celebration of the garden wall explores the wealth of variations on this theme: the texture and tactile pleasure of dry stone and brick walls; decorated walls; walls topped with impediments or crenellations; walls with alcoves or embrasures; walls to sit on and walls with built-in secluded seats; walls with windows and mysterious doors; and walls clad in ivy and covered in wisteria or pocketed with violas.  
Publishing Details
Hardcover: 64 pages
Simon & Schuster (May 1, 1993)
ISBN-13: 978-0671796891
Dimensions: 13.2 x 1.3 x 17.3 cm
Weight: 174 g