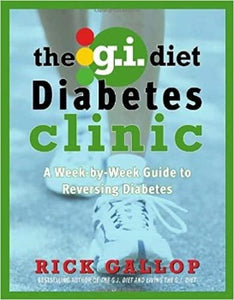 Condition: Like New
Rick Gallop coaches men and women who suffer from diabetes, pre-diabetes and type 2 diabetes through the challenges of changing their eating habits to help control their disease.  In this week-by-week guide, Rick tackles the epidemic problem of diabetes and weight gain.  This book includes:
food charts based on Gallop's practical, easy-to-follow traffic light system,

up-to-date nutritional information attuned to pre-diabetics, type 2 diabetics and insulin-dependent diabetics,

weekly meal plans, practical weight loss tips and easy recipes.

snack ideas, a shopping list, and tips for dining out.
The G.I. Diet, singled out by the Canadian Diabetes Association for its effectiveness at controlling weight gain and blood sugar levels, first popularized the glycemic index and brought widespread attention to how dieting based on this index is the foundation for losing weight permanently.  
Proceeds from the sale of this book will be donated to the Canadian Diabetes Association
More Diabetes Management Resources
Publishing Details
Paperback 304 pages
Random House of Canada, (May 11, 2010)
ISBN-13: 978-0307357090
Dimensions: 22.6 X 18.0 X 1.8 cm
Weight: 574 g