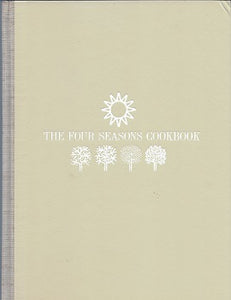 Condition: Very Good  -  Pages are intact and are not marred by notes or highlighting. There are a few pages with minor food or water stains characteristic of a used vintage cookbook.  The copy has a minor corner crush and minimal shelf wear along the edges. No Dust Jacket. 
Four Seasons Cookbook contains recipes from the famed restaurant in New York. James Beard wrote, "This is a highly unusual cookbook for the reason that it reflects twelve years in the history of one of the truly fine restaurants ever to grace the City of New York. Furthermore, the recipes are the work of a rare assemblage of chefs. The home cook is fortunate to have these specialties brought within reach."
What is truly interesting is the style and presentation of the dishes which are clearly a melange of 1970s American and European haute cuisine.  A collector will delight in reading this fascinating food history and perhaps try some of the more eclectic recipes too. 
What's new in the Vintage Shop
Publishing Details
Hardcover: 319 pages
Holt Rinehart and Winston;
 (1971)
ISBN-10: 03-08029644
Dimensions: 21.6 x 3.6 x 29.8 cm
Oversized title shipping charge: $6.95