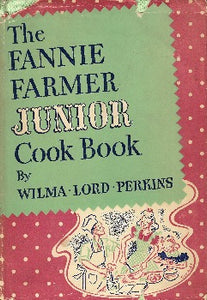 Condition: Very Good  Text is clean but has yellowed. Name of previous owner inscribed on front end paper. 
Years ago, cook books were not for beginners -- they were reminders or suggestions for people who already knew how to cook. In the 1890's, cooking schools were opened in which general methods of cooking were taught.  Fannie Merritt Farmer was undisputed as the most important teacher of cooking at that time. 
Although many have taught themselves to cook using The Boston Cooking-School Cook Book, there seemed to be a need for a shorter book for young cooks with only the recipes they will really use. 
The Fannie Farmer Junior Cook Book recipes have a moderate number of ingredients and use few utensils. Kids can have a great time making hot and cold drinks, toast and sandwiches, biscuits and muffins, soups, vegetables, main dishes and desserts. 
Publishing details
Hardcover: 208 p
ASIN: B0007IY6S2
Little, Brown & Co. (January 1942)
Weight: 499 g
Dimensions: 14.4 x 3.7 x 20.8 cm