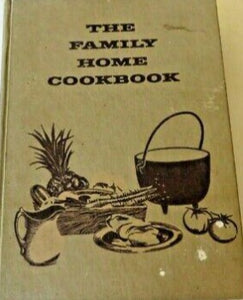 Condition: Acceptable - Well-loved.  All pages and the cover are intact. The binding is tight. Two pages are torn.  Pages may include notes, markings, and stains but the text is clean and readable.  No dust jacket. 
The Family Home Cookbook
contains Prize-Winning recipes kitchen-tested by the Culinary Arts Institute. 
This book was created after a recipe contest conducted by The Peoples Book Club and the Sears Readers Club.
Publishing Details:
Hardcover: 630 pages
Lexicon 1973 reprint 1981
Dimensions: 18.5 x 4.0 x 24.3 cm
Weight: 1.23 kg