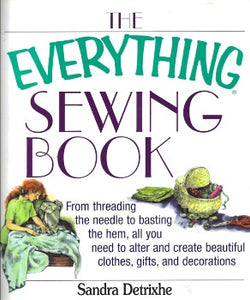 Condition: Very Good +   Appears unread.  Has reminder mark otherwise like new. 

The Everything Sewing Book provides readers with easy instructions for creating beautiful garments, gifts, and decorations for the home. From selecting the right needle and thread to choosing fabrics, reading patterns, and working with a machine, this uncomplicated book introduces readers to the basics of sewing as they complete increasingly challenging projects. Also included are tips for making alterations and repairs.   

Supplemented with foolproof illustrations, The Everything Sewing Book is the perfect gift for anyone interested in learning this rewarding craft.

Publishing details
Everything (June 4 2004)
Paperback: ‎ 320 pages
ISBN-13: ‎ 978-1593370527
Weight: ‎ 612 g
Dimensions: ‎ 20.3 x 2.1 x 23.5 cm