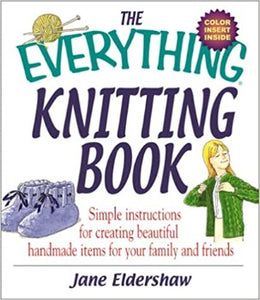 Condition: Very Good - Clean. Has some edgewear.
The Everything Knitting Book is a simple, comprehensive guide to get you started. From blankets and sweaters to hats and scarves, this book offers you all you need to know to create knits for yourself or as gifts for family and friends.   The Everything Knitting Book provides easy-to-follow direction on:
· Types of knitting needles and yarn  · Basic stitches
· Knitting patterns  · Circular knitting  · Crocheting
With clear line art and an eight-page colour insert, this book is a must-have for knitters of all levels.
Publishing Details
Paperback: 288 pages
Everything (Nov. 1, 2002)
ISBN-13: 978-1580627276
Dimensions: 20.32 x 1.91 x 23.5 cm
Shipping Weight: 544 g