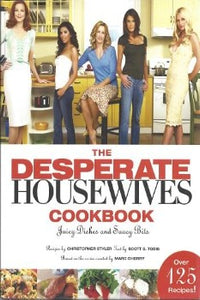 Condition: Like New  
The Desperate Housewives have wildly different personalities and storylines, but if there's one thing the four heroines have in common, it's food. In the Desperate Housewives Cookbook, fans will find recipes inspired by each housewife.
Brees elegant, impressive dinners feature dishes like Basil Pure Soup. 

Lynette's time-challenged lifestyle leads to quick, healthy, everyday fare. 

Susan's lack of kitchen skills means that her dishes are simpler  like a Salad of Roasted Peppers, Fresh Mozzarella, and Arugula; 

Gabrielle enjoys the finest things in life -- and food is no exception. Her meals are gourmet, and most definitely prepared by a personal chef. 

Edie uses food for seduction. Her favourites include Oysters Poached in Champagne and Cream and Sausage Puttanesca.

 
Publishing Details
Hardcover: 276 pages
Hyperion Books (Sept. 26, 2006)
ISBN-13: 978-1401302771
Dimensions: 21.0 x 2.5 x 26.4 cm
Weight: 1.14 Kg