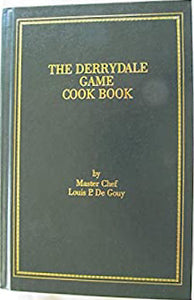 Condition: Used Like New - Binding is tight. Pages are clean, crisp and unmarked.  Appears as unread.  Has a small neat name inscription on the back of the front cover.  Collectable. 
The Derrydale Fish Cook Book was originally published as a limited edition (1250 copies) by Derrydale Press in 1937 and the first fish cookbook ever published in the U.S.  Derrydale Press was known as the premier publishing house for quality sporting fields and gamebooks during the Great Depression Era. They published extremely high-quality books in limited editions sold to wealthy patrons. This book contains recipes for all sorts of fish, as well as drinks appropriate for hunting expeditions. 
Louis Pullig De Gouy (1876-1947) was the chef for New York's Waldorf-Astoria Hotel for 30 years. He was one of the premier chefs of his era, author of 16 cookbooks and one of the founders of "Gourmet Magazine" 
 The Derrydale Fish Cookbook remains a no-nonsense, practical guide to cooking every type of game fish and more". (International Angler)
Publication Details
Hardcover: 330 pages
Publisher: Willow Creek Pr. Limited reprint 3000 copies (Aug. 1, 1987)
ISBN-10: 0932558402
ISBN-13: 978-0932558404
Dimensions: 23.1 x 15.2 x 3.6 cm
Shipping Weight: 734 g