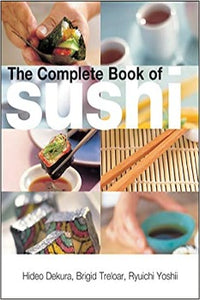 Condition: Very Good +  Appears unread. The text is crisp and clean. Minor corner wear.
An art form in Japan, sushi is not only beautifully presented but healthy and delicious. Fresh and tasty, sushi is one of the most healthful foods you can eat, as it's low in fat and high in essential vitamins and minerals. Aesthetically pleasing, sushi is also surprisingly simple to make. From traditional hand-rolled sushi to sushi in a bowl, this sushi book will show you how to make these elegant dishes with ease.
The Complete Book of Sushi provides information on the history and benefits of sushi.  This book also teaches how to use sushi-making tools; cook perfect sushi rice; cut vegetables and decorations; and select fresh sushi fish and other ingredients. 
Publishing Details
Periplus Editions (Sept. 15, 2004)
Hardcover: 240 pages
ISBN-13: 978-0794603168
Weight: 1.38 kg  
Dimensions: 22.7 x 2.3 x 27.9 cm