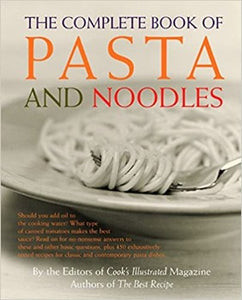 Condition: Good + Clean and Crisp Text. The spine is tight and pages intact.  Has a few small stains on the back of the front cover, the front-end papers as well as the last few pages of the recipe index.  Minor edgewear. 
 The Complete Book of Pasta and Noodles covers the basics of pasta and noodles.  This thoroughly researched guide is dedicated to the home cook who needs practical advice on everything from penne to Pad Thai. The experts at Cook's Illustrated present their knowledge and techniques in a hands-on way so that each and every step of the cooking process can be understood and easily executed. 

The book is arranged in four sections, exploring first dried semolina pasta, then fresh Italian-style pasta, Mediterranean pasta, European dumplings, and Asian noodles. There are thirteen chapters devoted to sauces alone, and recipes are included with the type of pasta with which they work best. The book includes excellent photographs of the various pasta and noodle shapes, and illustrations clearly depict each step of key techniques. 
Publishing details
Paperback: 496 pages
Clarkson Potter; Reprint edition (Sept. 17, 2002)
ISBN-13: 978-0609809303
Dimensions: 18.5 x 3.3 x 23 cm
Weight: 919 g