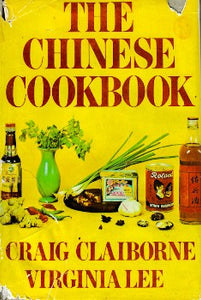 Condition: Very Good -  Text is clean and unmarred. Pages intact. Cover has minimal shelf and edgewear.  The dust jacket is in poor condition, torn and taped.
The Chinese Cookbook ~ "Savory and seasoned, 250 authentic Chinese recipes served up by experts. "Recipes are written so clearly, so explicitly, that even the neophyte shouldn't hesitate to tackle this unique cuisine."
Soon after being interviewed by Craig Claiborne for an article in The New York Times, Virginia Lee decided to start teaching Chinese cooking.  Mrs. Lee taught the basic elements of Chinese cuisine and emphasized methods by which dishes were prepared exactly as they would be in China. The book is both thorough and easy to understand, written clearly and explicitly to educate even the novice cook. Recipes are categorized by their main ingredient (pork, chicken, beef, seafood, et cetera) with a chapter on desserts.

This book provides practical advice about kitchen equipment, methods, and cooking techniques, such as the proper ways to carve and present meat. It concludes with a detailed list and description of Chinese ingredients.

Publishing details
Hardcover: 451 p
J. B. Lippincott Company;  (1972)
ISBN-13: ‎978-0397011735
Weight: 659 g
Dimensions: 14.9 x 3.9 x 21.8 cm